LEVITT AMP CARSON CITY 2023
Sponsored in part by the Mortimer & Mimi Levitt Foundation, a national funder of creative placemaking that empowers communities to inject new life into underused public spaces through free, outdoor concerts, the Brewery Arts Center will present 10 FREE, family-friendly concerts to the public presented by Connections Central. Join us Saturday nights!
June 17 – Las Cafeteras
Las Cafeteras have taken the music scene by storm with their infectious live performances and have crossed many genres and borders along the way. Their electric sound & energy has taken them around the world playing shows from Bonnaroo to the Hollywood Bowl, WOMAD New Zealand to Montreal Jazz, & beyond!
Born and raised East of the Los Angeles River, Las Cafeteras are remixing roots music as modern day troubadours. They are a sonic explosion of Afro-Mexican rhythms, electronic beats and powerful rhymes that document stories of a community seeking to 'build a world where many world fit.'
From Afro-Mexican to Americana, from Soul to Son Jarocho, from Roots to Rock and Hip Hop, Las Cafeteras take folk music to the future.
Las Cafeteras honor the past by using electrifying traditional instrumentation like the 8 string Jarana, 4 string Requinto, Quijada (donkey jawbone) and Tarima (a wooden platform). Las Cafeteras sing in 5 distinct languages, English, Spanish, Spanglish, Love and Justice … and they believe everyone understands at least one of those languages..
Opening Act: Sonido Sueño
Artist Sponsor for June 17: TBA

Collectivity is a jazz/funk, psychedelic soul band originally formed in Shanghai, China and now based in the SF Bay Area. We're talking about blistering energy and genre blending from an ensemble of world class musicians with a focus on exploration through collective improvisation. Upbeat grooves, soulful guitar work and tight arrangements are things to expect from a collectivity show. They draw on influences from jazz/funk, gospel and psychedelic soul.
With their high energy stage performances, this band has recently opened for Larry Graham at Shanghai Arena, performed in Mongolia at Ulanchabo Stadium, toured in Europe, and headlining festivals across the States, and has been turning heads touring throughout Asia and the US.
In addition to the guitar wizardry of bandleader Ben Misterka, the level of musicianship in this band is off the charts. The two horn players have played with Etta James, Boz Scaggs and The New Mastersounds! Bassist Uriah Duffy is one of the most loved on the scene, working with everyone from Christina Aguilera, Whitesnake, Too Short, The Family Stone to name a few. Keys wizard Kevin Wong is one of the most in demand in the Bay and Tokyo. You may have seen James Small on the drums touring the world with Fantastic Negrito. We can't wait to witness firsthand why Collectivity is renowned across several continents.
Opening act: Blue Envy
Artist Sponsor for June 24: The Fire Circle
MarchFourth is a kaleidoscope of musical and visual energy that inspires unabashed dancing and an atmosphere of celebration. With costumes inspired by band camp meets circus, the band consists of electric bass, guitar, 4-piece percussion corps, a 7-part brass section, dancers, acrobatics, stilt-walkers and a very diverse musical repertoire. Far from a "marching band" in any traditional sense, they have been known to swagger down Main Street playing a few tunes before taking the stage.
MarchFourth travels in one big tour bus, bringing their unique brand of party wherever they go. Their show is a sonic journey with worldwide influences, echoing the deepest grooves of American funk, rock, and jazz then boiling it all together in cinematic fashion, with showmanship, flare, and most of all: heart. This genre-busting, joy-inducing, in-your-face experience is not to be missed!
Opening act: Spencer Kilpatrick & The Sand Gators
Artist Sponsor for July 9: TBA
Noah Vonne has forged an original sound that blends elements of rock, soul, blues, and
pop. From an early age, the Texas native drew upon the likes of Janis Joplin, Brandi
Carlile, Alicia Keys, Sara Bareilles, Joan Jett and Ella Fitzgerald — each of these powerful women can
be heard in her vocal delivery. Noah Vonne's latest LP "We Weren't Sober" is out now
on her indie label Gray Vonne Records in partnership with Vere Music / ADA.
Opening Act: KatBoss
Artist Sponsor for July 8: TBA
Funk rooted soul rock jazz hop created for you to have a good time and dance your booty off!
Opening act: Dave & Cliff (from Jelly bread)
Artist Sponsor for July 15: TBA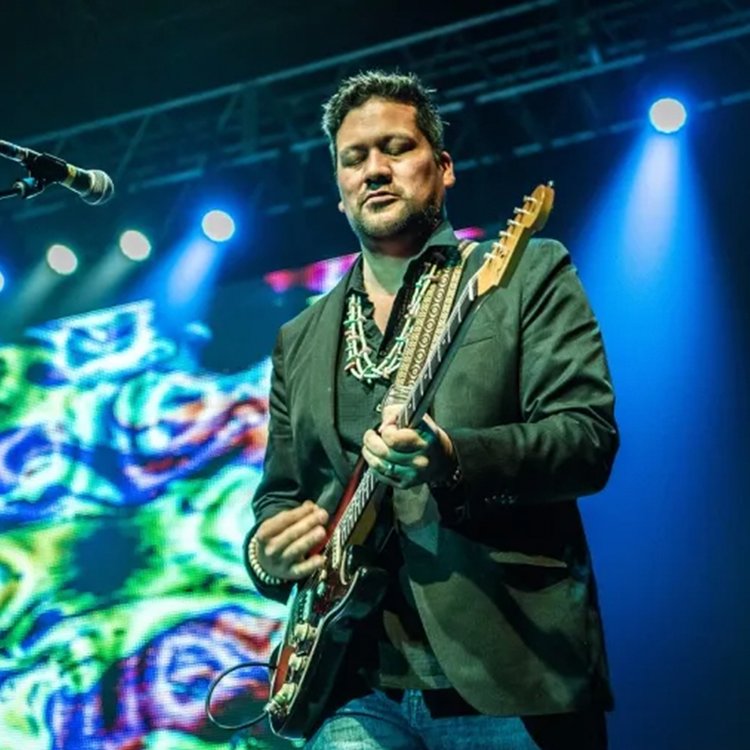 Mato Nanji, of the Ihanktonwan Nation first picked up the guitar at 16 years old. Since the age of 18, he has toured the country with his blues/rock band Indigenous. Playing with great artists such as Buddy Guy, BB King, Taj Mahal, Bonnie Raitt, and Jackson Brown to name a few. He has been a part of the Experience Hendrix tour since 2002 and shared the stage with a lot of great musicians. "It's a great honor to be a part of the Experience Hendrix tour for so many years, I love it!"
Opening act: Jason King Band
Artist sponsor for July 22: TBA
Las Chikas is comprised of some of the most talented female musicians in Southern California. Salsa never looked so good in the City of Angels, a melting pot of cultures and ethnicity come together to give birth to a multicultural female band that sets the stage on fire! Starting from humble beginnings in restaurants and clubs, Las Chikas have impressed and captivated audiences throughout California, including the San Jose Jazz Festival, LACMA/ Levitt Pavilion Los Angeles, WeHo Summer Sounds, and several casinos, theaters & community events.
Opening act: So Conocimiento
Artist sponsor for July 29: TBA
August 5 – Curley Taylor & Zydeco Trouble
Curley Taylor & Zydeco Trouble is an iconic and innovative zydeco band from the small town of Eunice, Louisiana. Founded by the namesake singer and songwriter, Curley Taylor, their sound is part modern blues, part traditional zydeco and driven by upbeat, party-starting rhythms. Their music draws inspiration from a wide variety of musical styles, ranging from country to R&B. Whether they're performing at a dance hall in the bayou or rocking festival stages around the world, Curley Taylor & Zydeco Trouble bring an unmistakable energy that always gets people on their feet. For fans of good music and a good time, you can't go wrong when Curley Taylor & Zydeco Trouble come to town.
Opening act: Rachael McElhiney & Her Friends
Artist sponsor for August 5: Carson City Hyundai
Now based in Montreal, The Peelers were formed in 1999 in North Glengarry. Less than an hour from the city, they immersed themselves in a hotbed of Gaelic culture which smashed head-on into a love of whiskey, poetry, footy, debauchery, ska and punk. The band has evolved to become one of the most acclaimed Celtic punk acts in the genre. They don't just bend the rules of tradition with their blend of aggro & trad Irish – these long ball merchants tear it to pieces.
Over the past 23 years the band has contributed to the growth of Celtic punk, roaming North America playing pubs, clubs, festivals, theatres, arenas, alehouses', truck stops, hotel lobbies, snowboarding championships, barrooms, beer gardens, cocktail lounges, inns, public houses, living rooms, football matches, tiki bars, saloons, and taverns. They have shared bills with many major acts including Lagwagon, members of The Pogues, Flogging Molly, Andrew W.K., The Planet Smashers, and Face to Face. The band has three releases: 'Boots and Suits', 'Liquordale', and 'Palace of the Fiend'.
Opening act: The Deadly Gallows
Artist sponsor for August 5: ARMAC Construction
August 19 – Shamarr Allen
Shamarr Allen is the definition of New Orleans! Hailing from the Lower 9th Ward of New Orleans, Allen has influences in jazz, hip-hop, rock, funk rhythms, blues and country. He is the lead vocalist and trumpeter of his band "Shamarr Allen & The Underdawgs." In addition to performing with his band, Allen has collaborated with many renowned artists around the world such as Willie Nelson, Patti LaBelle, Galatic, Harrick Connick Jr, and Lenny Kravitz, to name a few. He is a sought after artist for festivals and venues around the world. In addition to displaying his skills on the front-line as a lead performer, Allen is also a music composer, writer, and producer. With a scintillating and unique sound, look, and exemplary talents, Shamarr Allen transcends musical boundaries. He is the True Orleans experience!
Opening act: Jenes & The Juice
Artist sponsor for August 19: Kirkpatrick & Bullentini Law